Spend the dazzling day at Snow Park Goa
In our fast pace life where we do not have time for our family and friends but only work and craze to win the competition. But we should not forget that everyone needs a break from all the headache and needs to make plans to relax our mind and body, have fun with family. Whenever we think of a place that calms our soul and gives us immense happiness, we only know one place "Goa "
Goa is the most beautiful and popular vacation destination with best view hotels and resorts, transportation and it provides the parties, sun soaking time, thrilling water activities, what else do we need, right? But a part of parties everyone wishes for one more thing, snow! Have you ever thought of playing with snow, in Goa?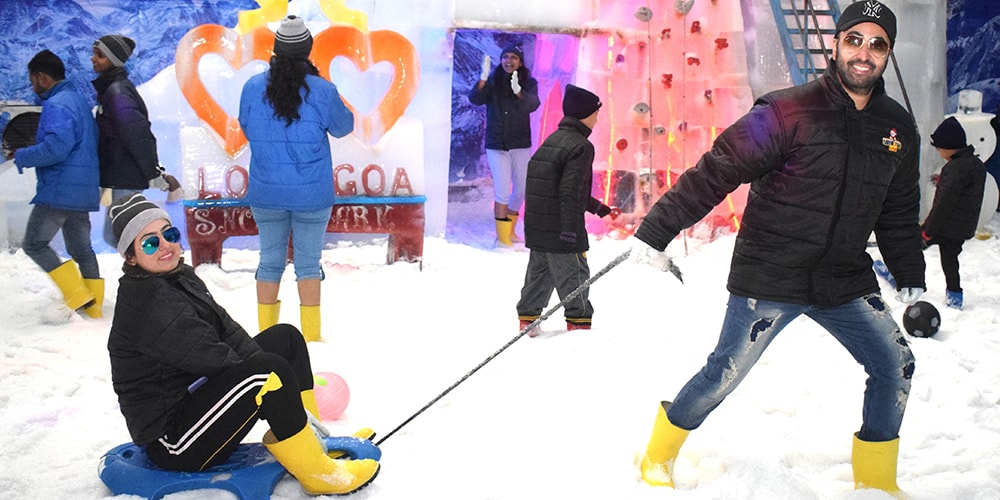 I am not playing with your minds but telling the truth. You can now enjoy the sun and also the snow thunderstorms! It's one of the best theme parks in goa and must visit place because it's giving you everything we have been asking for!
Snow Park offers real snow and gives you an experience of Switzerland. If you want something new and something that challenges you mentally and physically but leave you with an exciting feeling then this is where you should be. It is designed with the purpose of entertaining every individual – kids can make snow man and snow angels, with play ball whereas the adults can play snowballing, car smacking and also enjoy India's Ice bar where they serve you drink in real ice glasses (cheers). Unleash your creativity and bring the kid back in you – build some caves and igloos. You can enjoy the parties; dance on the tunes of the best DJs and show-off your best move.
Snow Park is one of the top 10 places in Goa for relaxing with your friends and family. You can plan your weekend or a trip to Goa and visit Snow Park to bring more adventure and fun in your trip.
Snow Park gives you the most spectacular feeling in the world. There are various features like Sledging Car, snow volleyball, ice igloo, thunderstorm, and so on are ready to make your visit joyful. You can relive all your stress and cherish your holidays at Snow Park in Goa.
Snow Park is also the best place for partying with your friends and family. You can take them to Snow Park and enjoy any special occasion and can celebrate your event. Do visit Snow Park in Goa and beat the heat. For more information visit – www.snowparkgoa.com.