Why Snow Park Goa is among the must visit places in Goa
Goa has an impressive infrastructure of hotels, beach hotels and Snow Park. The temperature in Goa is average with not much difference. The summer is at its most popular in May while the winter months of Jan and Feb are the very coldest. There are many sport Activities to do in Goa and Snow Park is one of them.
Among these infrastructures, SNOW PARK has now developed a design for the exclusive snow play centre to amuse the whole family for 365 days. The aim is to present endless snow fun to the whole family in any varying weather conditions, especially in places where snow is a unique or now a day's unusual commodity.
Are you bored with old entertainment concepts? Do you want something new and want to challenge psychologically and physically and want to full loaded enjoyments and demonstrations? If so, Snow Park is for you, if you like to achieve various snows based activities. We give you a combination of REAL SNOW in -0 temperature with an exclusive concept, which contains only water and no comical are added.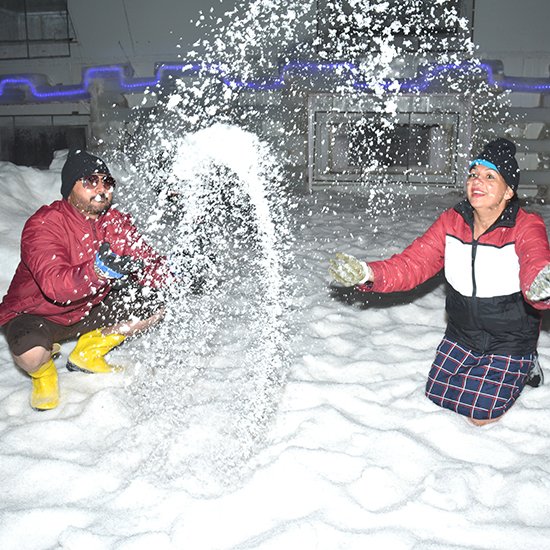 One can appreciate slips on ice and also a sledging car. There are snow play areas for kids and adults where they can build a snowman, igloos or snowballing places where they can start a snowball fight with buddies. Snow caves and igloos can be suitable for snow edutainment.
This is Goa's first snow park, which was inaugurated a year ago in 2016. The park is spread over an area of 500 sq mts. Snowpark is located at Baga beach on the Tito's Lane 2, It is almost the size of a large club. Apart from ice glide, there is a complicated labyrinth of ice rooms and the ice loaded place which has a lot of interesting games. There are special machines generating snow and ice for the park. The most interesting fact about this machine is that it can also create artificial snow storms for the more amazing visitors.
About the Activity:
Experience something new with this interesting Snow Park in Goa and get the skills as if you are in Switzerland.
Begin your amazing day after attaining the trip area.
The smartest thing about the location is that they give you a combination of real snow in -5′ C temperature with, Snow falling as like in Switzerland,
Enjoy some of the pursuits like the Snow Play places, Snowballing, Igloos, Snow Men, Snow cavern, Slide on the ice, Sledging car, Snow dance etc.
This park is specially designed for a unique snow play along with your friends and family.
Get surprised with the different activities and feel the difference.
Snow Park Goa is an ideal destination for a wonderful time with your dear ones. Have fun with the destinations of this well-known tourist spot. With so much to attract your feelings and provide you with goa entertainment places at its best, get soaked in the soul of chance that you get to discover at the snow park, Goa. Enjoy together all the points of well-known interests and restore several unforgettable minutes. Snow Park, Goa is not just the place for touring, but it also enables you to grab a self-indulgent moment for yourself as well. So, check out the snow park vacationer place for all the destinations that are available and visit this spot on weekends for a refreshing time.
Adventure lovers enjoy this place
Looking for the best set up Goa to get away from the summer heat? We have just what you need for a fun escape from the extreme heat. We have an exclusive snow play center mixing the best of "winter" things to allow you to achieve the snow like never before. So this is for all the winter babies who are always waiting for some snow fun with their loved ones. Head to Atlantis and enjoy this extremely fun activity operating from 11.00am to 8.00pm. We maintain the temperature levels between -2 degrees to -5 degrees so we ensure that that you are clothed properly to avoid frostbite.
We are always looking for fun activities to help you chill out and revitalize with us. Snow Park is our latest addition that is extremely ideal for the scorching summer season in Goa. Your comfort and security is our priority hence we provide you with suits, footwear, hats, Gloves and Jackets. We charge you Rs. 495 for approximately around 2 hours of pure winter fun that is all about cooldown and relaxing.
World standards, outstanding structure, impressive templates, and well-thought execution make the place a highly popular point of tourist interest. Do not forget to carry your camera and catch fun activities. Snow Park is among the top 10 places in Goa if you are looking to renew and relax after a busy weekday.
Goa is the best way to have an unforgettable time with children and family. So, appreciate a satisfying trip to Snow Park in Goa.