Enjoy the real-time fun of indoor Ice Climbing
The key to success is to boost one's sense of adventure in a wide range as possible and that too without doing yourself a damage which provides a good starting base. One of the best snow sports activities in Goa. Either you are a veteran ice climber, hiker or simply a thrill seeker looking to try out ice climbing for the first time it is a nerve-wracking experience for every Tom, Dick, and Harry.
Ice climbing is very enthralling and adventurous for kids as well as for grownups, as it is the one and only breakthrough experience what Ice climbing really feels like without waiting for ages for the right weather.
Climbing is a physically demanding activity especially when compared to any other indoor and outdoor activities, walking miles upon snowy highlands, or serving your apprenticeship in winter mountaineering skills it takes a lot of passion and energy both but when you touch the peak and it will leave you with a smile that will last for long.
Indoor ice climbing is perfect for complete beginners who are just looking to have fun and give it a go and is focused on fun & amusement rather than skill constructing.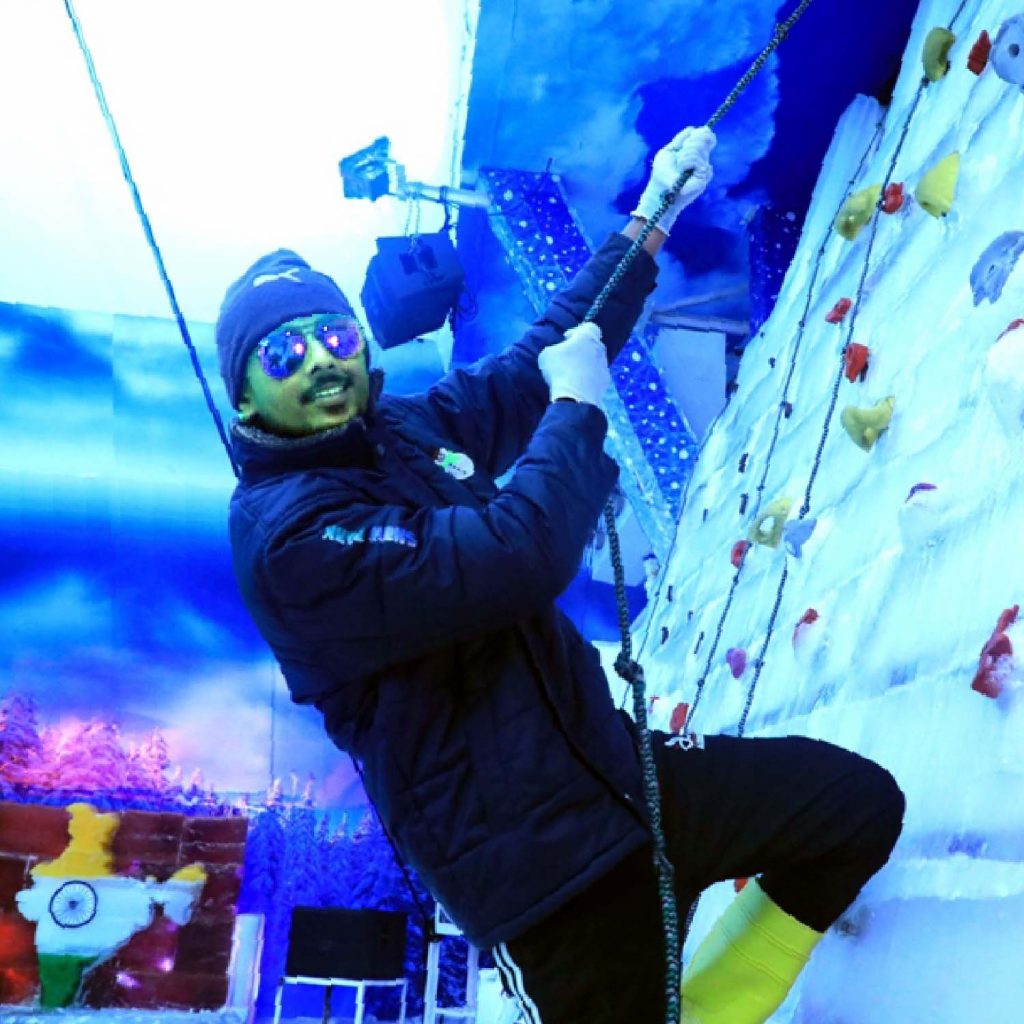 Also perfect for experienced rock climbers and the sessions are intended to help you allocate your prevailing skills and help you climb harmlessly, slicker, faster and harder with a complete instruction by fully competent instructors. When talking about indoor ice climbing in Goa, Snow Park is always a part of the discussion, featuring ice-covered cascades lining the Valley of the Ice Mountain.
Built by ice agronomists and irrigators, we strive to make your experience enjoyable and memorable. We are counted as Goa's first grown Ice Park, which provides the perfect place to freeze with water, efficiently making an indoor ice climbing in Goa and is an ideal way to get a flavor for ice climbing without the danger.
One doesn't have to be an adventure seeker or keen of sports to enjoy the experience; the one hour long one to one session is sufficient time to absorb all the skills. Snow Park is one of the must visit places in Goa loaded with abundant snow thrills, where some people will just want to try it for pleasurable activity and adventure, some will want to use it to fine-tune their ice climbing practice, some will train others for the ice climbing doesn't matter.
One will get a real-time experience of being in a hill station and enjoying many activities including ice climbing. Snow Park can be your next picnic destination, weekend getaway or a day spent in adventure and however, you want to plan it. Now you do not have to visit outstation or spent much in a perfect day out. Enjoy the thrills and feel like a mountain climber.