Why Goa Rocks For Snow Activities?
Sun, sand and snow, the first two words have already got you thinking about Goa, haven't they? But what's got the ferrous wheel of your mind rolling is the term snow. What if we tell you that you would also be able to make snow castles alongside sand castles in this land of fun and frolic? Goa is a must visit place on every tourist's itinerary. From a group of broke college friends to newly married couples, Goa has something to offer to everyone. Shacks and guest houses cater to those with a limited budget whereas five star hotels cater to those who are keen on making their stay luxurious. Being a tourist friendly place Goa doesn't fall short of must visit places. There are so many places for couples to visit in Goa.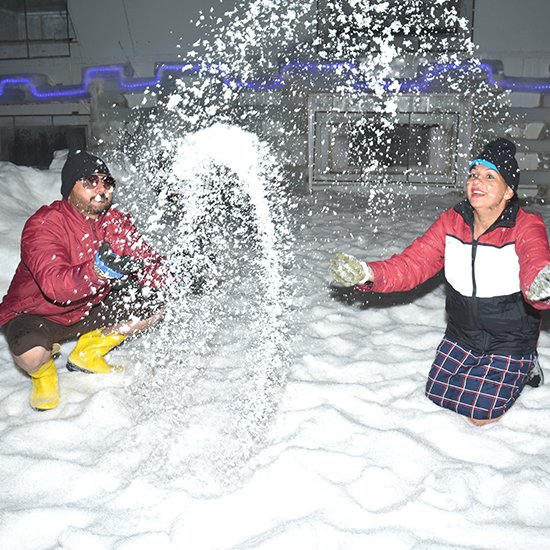 Goa is divided into North and South, while North Goa resembles a city, South Goa is more like a traditional village and exudes an old world charm. There is an array of beaches to go to, from Anjuna to Baga to Calangute to Candolim. Beautiful architecture and structural excellence define the churches in Goa. Bom Jesus Basilica is a UNESCO heritage site. It's a world-renowned church that hosts the mortal remains of the body of Saint Francis Xavier. The Se Cathedral Church is one of the oldest churches in the country and was established to mark the victory of Portuguese ruler Afonso de Albuquerque. The church of Our Lady of Miracles was once a military chapel. It was demolished in 1977 and a new church was built.
Churches, Beaches and temples are routine places to visit near baga beach in Goa. But now there is something that would revolutionize the tourism in Goa. The city known for sun and sand would now be known for snow as well. Goa now has its very first snow park for its people and the tourists. There is no dearth of entertainment in this park. Once you walk into this accurately designed, children friendly park there is no looking back. It is one of those rare places that would make you forget that you are a mature adult. Snowball fights a game of volleyball with your friends of the field of snow and a lot more. You also get to enjoy your favourite drink in an ice glass. This place is one of the must visit places in Goa, especially for adventure loving couples.
To ensure that you enjoy to the fullest here are the rules that you would have to follow:
1) Rides will operate subject to availability.
2) One or more rides may be non-operational due to maintenance issues.
3) A valid photo ID is mandatory for all those looking to gain entry to the park.
4) Children must be accompanied by parents/guardians at all times.
The timings of the park are from 11 a.m. to 11 p.m. Next time you plan a trip to Goa, make sure that besides beaches and other best attractions in Goa, you also visit the snow park. It would definitely be a memorable outing. You and your family/ group of friends would surely have something valuable to take back from this visit.