Amazing Snow Activities to do at Snow Park in Goa
In case you plan to visit Goa, in that illustration, there are a plethora of best attractions in Goa that is convenient for you. How about contributing an evening to a thematic park with your buddies and relatives? If you are looking for places to visit near Calangute, in that case, there exists a snow theme place in Goa. It is none other than the Snow Park Goa, and it remains one among the primary charms of this region. Here you can possess fun and excitement with your colleagues and children as it contributes tons of distinctive activities.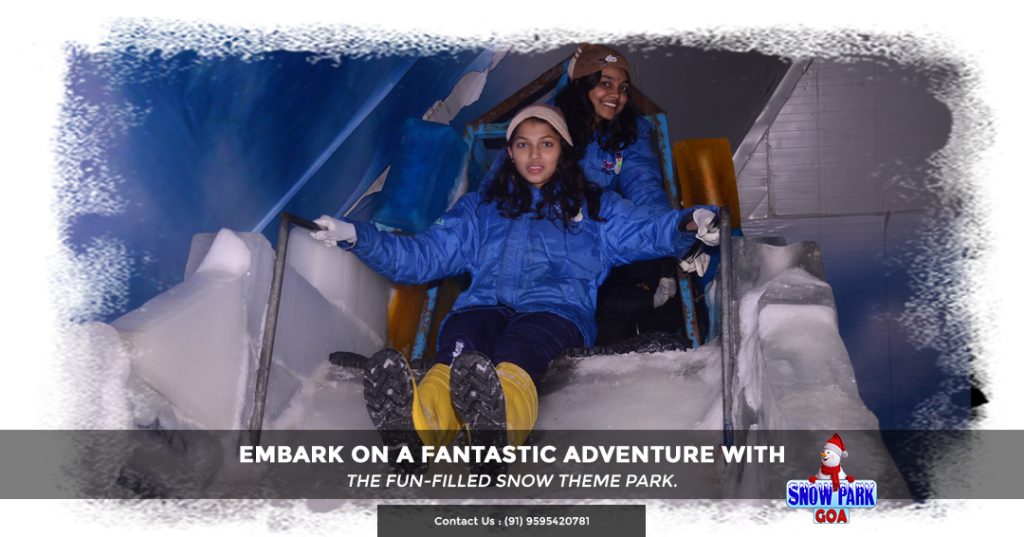 This amazing snow themed park has a lot to offer to its visitants. It is one among the best amusement parks in Goa. Here are the key highlights of what this snow-filled park has it store for you:
Slide all the way down at Ice Sliders:
At this snow-filled theme park, there exist two contrasting ice sliders which are available for its visitants. One is intended for the grown-ups and the other one has been created for kids. It remains an entirely separate experience collectively accelerating down the sliders plus sensing the dash of cool wind while you thrust by. There exists a piece of ice at the edge of the slide which will stop you after you have reached there.
Sledge your hearts away in the Sledging Car:
Would you love to encounter the journey of the Eskimos? In that illustration, you cannot manage to refrain out on the sledging part. It is one of the principal appeals of this snow park in Goa. Driving a sledging car on actual snow will continue an activity that you will treasure for the remainder of your life.
Get the snowball experience by Playing with Snow:
Have you heard of anyone who doesn't love to play with snow? None tight! Everybody prefers romping with snowflake! There is nothing more exhilarating and enjoyable other than making pellets of snow and tossing at each other. At the Snow Park in Goa, you will discover actual snow to play with. If you have kids with you, it will solely drive them crazy!
Dance your heart with the DJ Dancing facility:
Would you love to sweat in snowfall? In that illustration, you can take part in DJ dancing. You can possess an unlimited blast while grooving to the tune played by an acknowledged DJ. Dancing in cooling temperature including amazing brilliance would be a distinct experience altogether. Furthermore, you can get in touch with various new personalities and enhance your friend circle.
Feel the Eskimos at the Igloo:
Have you ever fantasized of living in an Igloo? The house of Eskimos. Well, this remains your opportunity to live your fantasies. At this place, there exist Igloos constructed of ice which you can tour. A family portrait including the Igloo in the backdrop would be a keepsake to save for the remainder of your life.
Wrapping Up
Aside from these, there is an abundance of various ventures possible for you at the aforementioned theme park. You possess ice-sculpture; you can experience the excitement of a downpour, play slush volleyball, and others.