Which are the Top 3 places to see in North Goa for Millennial?
The very mention of Goa brings in front of our mind the scenery of wonderful beaches and beautiful greenery spread all around. Also, the bohemian and carefree culture of this tiny state is something one can never miss. Goa is known for its extravagant nightlife and the air of freedom that can be witnessed amidst the amazing scenic beauty.
Considering its very fame, it attracts tourists from across the world as well as youth from the country to throng to this place all through the years. To begin with, Goa is divided into north Goa and south Goa. Both the corners have exciting places to view and look out for. However, in comparison to south Goa, North Goa is more prominent, thanks to the varied places to see in North Goa. From wonderful forts to some famed beaches, there are a lot of interesting points to explore in this state.
Wear your craziness and jump into the awesomeness of Goa
Goa ensures to leave no one disappointed. There are plenty of Goa points of interest which is still oblivious to the world. While few places are extremely popular there are other points too which are as prolific to enjoy and spend your vacation.
Considering the very craze of people for Goa, we herein have enlisted top places to see in North Goa that can make you drool with craze and entertainment taking back wonderful memories of the place back home
Heaven midst the paradise of Beaches – Calangute
Who wouldn't like to dive into the clean reflective water of the beaches? Surrounded by immense greenery, the beaches in north Goa make an ultimate destination for fun and galore. Some of the famous points do interest here is the Calangute beaches, that houses an annual festival called SUNBURN that is conducted for a whole 3 days in the month of December. Many More places to visit near Calangute.
Monikered as the 'Queen of Beaches' the place has an unmatched charm and frantic nightlife besides the oceanic paradise. If you are someone who has an adventurous streak inside, then this is one of the best destinations to explore blessed with incredible beauty and tranquility? So, relish on some mouthwatering cuisine and dazzle in the midst the Goan culture exploring and participating in varied water sports as well as paragliding.
Recreate the snow environment at Snow Park
Well, continuing exploring the wonderful life of Goa, it also comprises of many more enticing destinations other than sky reflecting beaches. Amongst these numerous places is situated a one-stop location for all those who are in for some fun and adventure, but indoors.
So, once you have well explored the beaches and forts, how about spending some adventurous time midst the snow? Are you thinking how can there be snow at a place like Goa? Well, in this era of turning impossible to possible is Snow Park which is one of the hottest Goa points of interests which attracts all age group.
Herein you can spot not only children, honeymooning couples, families, group of friends but also foreigners who love to spend some cozy time midst the white snow.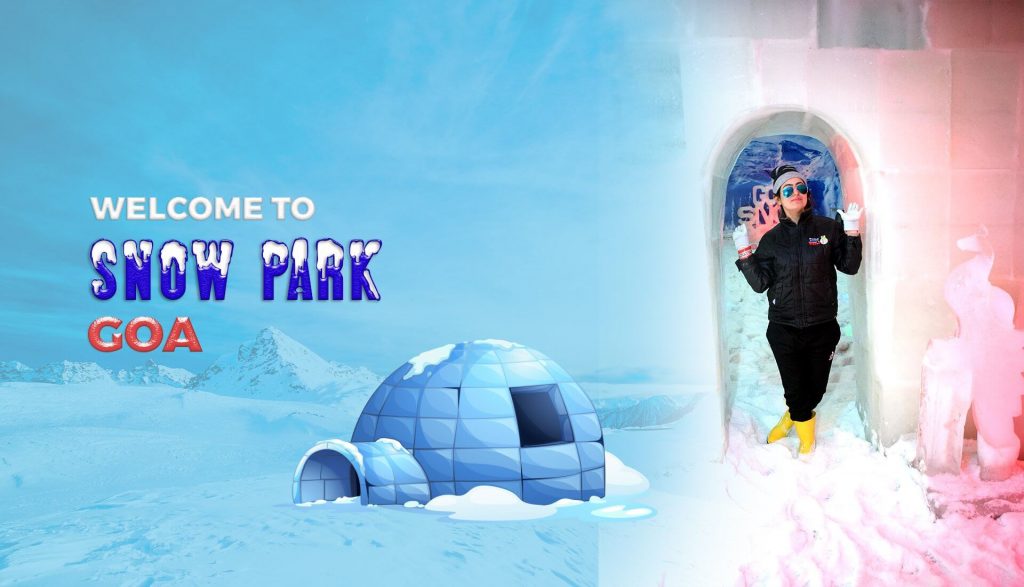 What to look out for at Snow Park?
This theme park is an ideal hangout place for weekends if you wish to escape the humid heat of summer. The place is no less than a paradise reminding the exotic snow filled location of Kashmir and Darjeeling down North Goa. At Snow Park, each guest is welcomed to the huge ice bar ever seen. Everything in the bar is made of ice, from serving drinks in a real ice glass. And what more, each guest can also take a selfie with while seeping from the ice glasses. With the temperature below -5 degree surrounding with snowmen, snow dance, thunder, and laser effect, this is the perfect destination for clicking pictures, having fun and complete entertainment.
Reminiscence scenes from the epic movie Dil Chahta Hai at Chapora Fort
As mentioned, Goa is no less than a paradise, and it leaves no stone unturned to dazzle the vacationers offering some scenic locations to entertain one. After dazzling in the Snow Park, the next ideal location is the Chapora Fort where was shot few famous scenes from the Bollywood flick Dil Chahta Hai.
Dating back to 1717, overlooking the resplendent Chapora River, this fort was a strategic point for defense which is now converted into an enticing location for pre-wedding shoots as well as a picnic spot for millennial today. So, click pictures, create memories and let your hair loose at Goa, the epitome of Bohemian culture.
What does Goa offer for Millennial?
Popular destination in Goa where you can witness carefree air and a hippie lifestyle. It offers a perfect spot for millennial to indulge in adventure sports, dance, party and create innumerable memories.